Development Focus
To vigorously take forward ecological conservation, establish the approach of green development, implement rigorous ecological protection system, promote the adoption of green and low-carbon production methods and lifestyles as well as modes of urban development and operation, and facilitate sustainable development of the Greater Bay Area.
To put into practice ideas on ecological conservation, make full use of modern information technology, achieve the smart management of city clusters, bring more convenience to the lives of people in the Greater Bay Area, raise the quality of living of residents, and build a beautiful bay area that is ecologically safe, environmentally attractive, socially stable and culturally vibrant.
The cooperation among Guangdong, Hong Kong and Macao should be deepened and broadened, the internal driving forces for development should be further enhanced in the region, and the framework for an international first-class bay area and world-class city cluster that is vibrant and highly innovative with an optimised industrial structure, a smooth flow of various factors and a pleasant ecological environment should essentially be formed.
To strengthen joint prevention and control of air pollution in the region, implement more stringent clean shipping policies, make concerted and coordinated efforts in reducing the emission of various pollutants, and take coordinated preventive and control measures against pollution caused by ozone and fine suspended particulates (PM2.5).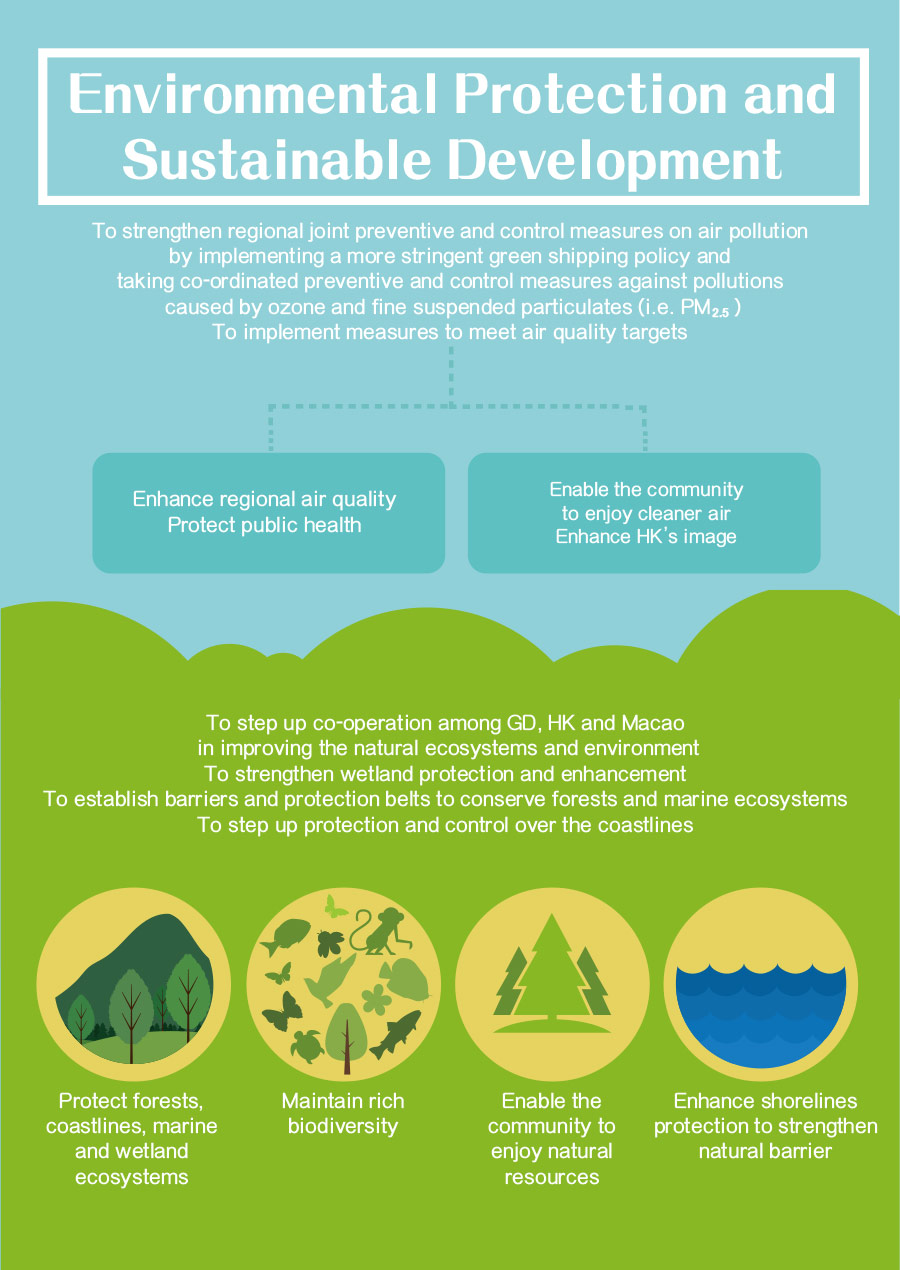 To step up cooperation in ecological and environmental protection among Guangdong, Hong Kong and Macao, and enhance ecological and environmental systems in a concerted manner. To strengthen the protection and enhancement of wetlands. Establishing ecological protection barriers. To enhance the protection of green mountain and blue bay, establish ecological protection barriers for forest ecology and marine ecological belt.
To enhance the conservation of marine resources and environment. To Take forward cooperation in the management of water resources, water environment and water-related projects in the Pearl River Estuary region. To proactively pursue the demonstration of the remediation of contaminated soils.
To nurture and develop industries such as new energy, energy conservation and environmental protection, and new energy vehicles, and form a belt of industry aggregation with R&D of energy conservation and environmental protection technologies as well as the development of headquarters and bases as its core.
On cleaner production, to enhance promotion of cleaner production technologies and practices.