Hong Kong is a premier logistics hub and springboard to and from the Mainland, thanks to its strategic location, world-class infrastructure and multi-modal transportation links. In recent years it has strived to develop high value-added maritime services and modern logistics. The Government will continue to consolidate and enhance Hong Kong's position as an international aviation hub, international maritime centre and international logistics hub, with a view to promoting the economy's sustainable growth.
Aviation hub
Hong Kong International Airport (HKIA) has always been one of the world busiest international passenger airports and busiest cargo gateways. Prior to the COVID-19 pandemic, around 120 airlines operated every day between the HKIA and about 220 destinations worldwide, including some 50 destinations in the Mainland.
The Airport Authority Hong Kong (AAHK) commenced the construction of the Three-Runway System (3RS) of the HKIA in August 2016 to meet long-term air traffic demand. In July 2022, the third runway was completed first and started with aircraft take-off and landing. AAHK is pressing ahead with the remaining works, targeting to complete the 3RS in 2024.

Hong Kong International Airport
Airlines in Hong Kong and the Mainland may operate intermodal code-sharing services among Pearl River Delta (PRD) cities. A passenger travelling by air may take another means of transport (high speed ferries and cross-boundary buses) using the same air ticket, which will assist in travel planning.
To create greater synergies between the Hong Kong-Zhuhai-Macao Bridge (HZMB), the Guangzhou-Shenzhen-Hong Kong Express Rail Link (XRL) and the HKIA, AAHK has made available check-in services at the West Kowloon Station of XRL and the Hong Kong Port of HZMB. Such services are also available at various ports and stations in PRD cities and Macao. The coverage of such services will continue to expand in different locations in PRD cities in future to provide excellent and convenient services to passengers.
AAHK is enhancing its intermodal facilities, which includes developing the SkyPier Terminal to provide air-to-bridge/bridge-to-air bonded bus service, to strengthen HKIA's role as an aviation hub in connecting passengers from PRD region via the HZMB for outbound flight to the restricted area of HKIA direct. Passengers travelling from overseas to other cities in the PRD via HKIA can also benefit from the service; AAHK is also developing two automated car parks, namely "Park and Fly" and "Park and Visit", on the Hong Kong Port (HKP) Island. The "Park and Fly" carpark will enable self-driving visitors from Guangdong and Macao to drive their cars to HZMB and fly out of HKIA without going through Hong Kong's immigration clearance. As for other visitors, after parking their cars at the "Park and Visit" carpark, they can go through immigration clearance procedure at the Passenger Clearance Building at the HKP and then enter Hong Kong. This will promote the connectivity within the Greater Bay Area and also lead to considerable enhancement in utilising the HZMB by increasing the traffic flow.
The Civil Aviation Administration of China has agreed to expand the scope of flight destinations to be served by cross-boundary helicopter services to and from Hong Kong to cover the whole Guangdong Province.
To facilitate the development of air cargo industry, land has been reserved in the South Cargo Precinct of the HKIA to support the growth in transshipment, cross-boundary e-commerce business and high value-added air cargo business. The expansion works of the express air cargo terminal were completed in March 2023, with its capacity increased by 50% to 1.06 million tonnes per annum. In addition, the land parcel of about 5.3 hectares at Kwo Lo Wan in the South Cargo Precinct was awarded in June 2018 for the development of a premium logistics centre, which is expected to come into operation in 2023. The centre will address the need of warehousing and distribution of e-commerce more effectively and is conducive to unleashing the potentials of the HKIA as an aviation hub.
The AAHK set up the Hong Kong International Aviation Academy in 2016. Since its inception, the Academy has provided different levels of trainings and programmes to over 230 000 participants, including summer day camps, internships, on-the-job training, certificate programmes and other professional programmes.
Through the dedicated concessionary tax regime for aircraft leasing, the Government promotes the development of aircraft leasing, aviation financing and other related businesses in Hong Kong.
The AAHK is actively taking forward the 'SKYCITY' development project by building an integrated retail, dining and entertainment destination so as to enrich travellers' experience and become a unique tourism attraction. The first hotel and three office towers in 11 SKIES commissioned in 2022, while the retail, dining and entertainment development is scheduled to open in phases in or before 2027.
Port development and logistics industry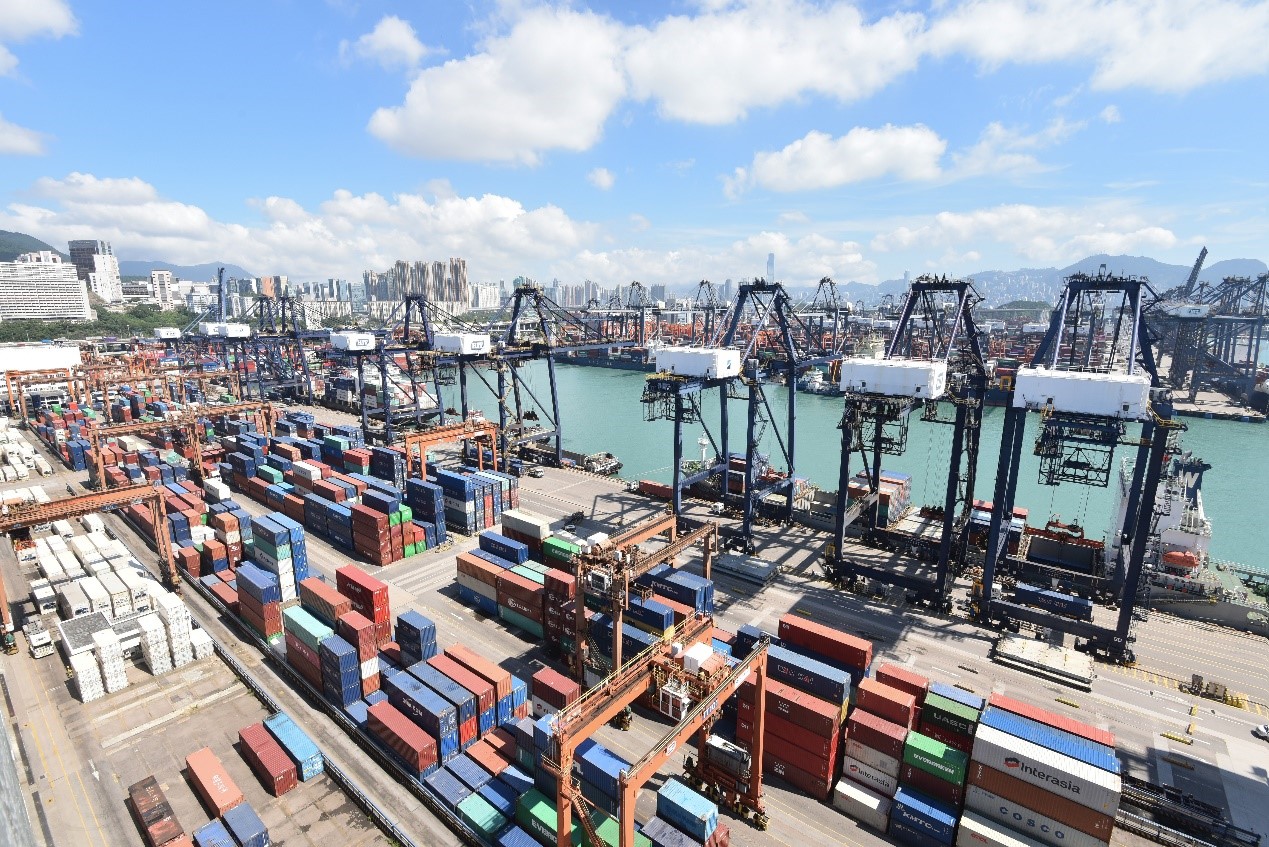 Kwai Tsing Container Terminals
The Hong Kong Port is one of the world's top ten busiest container ports.
Hong Kong has a natural deep-water harbour. The nine Kwai Tsing Container Terminals provide 24 berths operating round-the-clock. There are over 240 international liner sailings every week connecting to more than 460 destinations worldwide.
To maintain the competitiveness of Hong Kong Port, the Government will continue to expand terminal yard space to support port operations and enhance the container handling capacity.
The Government is promoting smart port development and encouraging the maritime and port industry to adopt digitalisation more extensively in business processes to further enhance the operational efficiency and strengthen the overall competitiveness of the Hong Kong port.
Hong Kong has all along been an international logistics hub in Asia underpinned by our strengths in aviation and maritime logistics. Apart from strengthening our position as an international aviation hub and maritime centre, the Government has been promoting the development of modern logistics through infrastructure upgrading and manpower training to meet the increasing demand for high quality and high-end logistics service in the region, with a view to enhancing the competitiveness of Hong Kong's logistics industry to consolidate Hong Kong's status as an international logistics centre.
A dedicated funding scheme called "Pilot Subsidy Scheme for Third-party Logistics Service Providers" was launched in 2020 to encourage logistics companies to upgrade their IT infrastructure and apply technological solutions to enhance efficiency and productivity. The Government has also been identifying and releasing suitable land for the development of high value-added modern logistics service. In addition, the Government will further strengthen the connection with other Greater Bay Area cities to build a highly efficient and smooth logistics network in the Greater Bay Area by capitalising Hong Kong's prime geographical location, with a view to proactively developing an intermodal transport network to facilitate the flow of goods within the Greater Bay Area.
Maritime
The Hong Kong Shipping Register is ranked fourth globally in terms of gross tonnage.
Hong Kong-flagged ships enjoy preferential port tonnage tax treatment with up to nearly 30 per cent reduction in dues at Chinese ports.
Hong Kong has entered into double taxation relief arrangements covering shipping income with 52 trading partners.
With a cluster of over 1 100 port and maritime-related companies, Hong Kong provides a range of quality maritime services, including port services, ship agency and management, shipbroking, ship finance, marine insurance, and maritime legal and arbitration services, etc. With our many advantages, Hong Kong is well-positioned to serve as the maritime service hub for the Greater Bay Area and Belt and Road economies.
Through the dedicated concessionary tax regimes for ship leasing, marine insurance, and shipping commercial principals (i.e. ship managers, ship agents and ship brokers), the Government promotes the development of maritime-related businesses in Hong Kong.
Hong Kong is a leading international ship finance centre in Asia – seven of the world's top ten bookrunners on syndicated marine finance loans have offices in Hong Kong. On insurance, 12 of the 13 members of the International Group of Protection and Indemnity Clubs have presence in Hong Kong.
Cross-boundary infrastructure
The Hong Kong Section of XRL commenced operation in September 2018, linking Hong Kong with the over 40 000 km national high-speed rail network. Travelling time between Hong Kong and Shenzhen, Guangzhou, and other cities in the PRD have been greatly reduced, and it further consolidates Hong Kong's position as a regional transportation hub. The average daily patronage of the Hong Kong section of XRL was about 40 000 in the first half of 2023, with the highest number of over 90 000.
In order to further promote the connectivity of infrastructures in the Greater Bay Area, the governments of Hong Kong and Shenzhen jointly established the "Task Force for Hong Kong-Shenzhen Co-operation on Cross-Boundary Railway Infrastructure" to pursue the Hong Kong–Shenzhen Western Rail Link (Hung Shui Kiu–Qianhai) and Northern Link Spur Line, with a view to jointly developing the "Greater Bay Area on the Rail".
Since its commissioning in October 2018, the HZMB has brought enormous opportunities for the connectivity within the Greater Bay Area and its overall development. The governments of Guangdong, Hong Kong and Macao have been working closely to take forward various new cross-boundary transport measures having regard to the capacity of relevant boundary control points and the respective connecting roads with a view to increasing the number of vehicles using HZMB in a gradual and orderly manner, including the "Northbound Travel for Hong Kong Vehicles" (the Scheme) which has been implemented since 1 July 2023. Eligible Hong Kong private cars can travel between Guangdong and Hong Kong via the HZMB without the need of obtaining regular quota, thereby providing a convenient way for Hong Kong citizens to self-drive to Guangdong for business, visiting families or sight-seeing on a short-term basis; and these northbound vehicles can also have the customs guarantee-free arrangement.
The Liantang/Heung Yuen Wai Boundary Control Point (LT/HYW BCP) is the seventh land boundary crossing between Hong Kong and Shenzhen with direct access facilities for both passengers and vehicles. It connects with the Eastern Corridor in Shenzhen which greatly shortens the travelling time to eastern part of Shenzhen, eastern part of Guangdong Province and other neighbouring provinces. This BCP is one of the key infrastructures to strengthen the cross-boundary transport connectivity within the Greater Bay Area, which can provide Hong Kong with more room for development, foster the flow of people and goods, and promote economic development and regional co-operation under the "one-hour living circle" in the Greater Bay Area. It also facilitates smooth and efficient people and cargo flows across the boundary, alleviates the busy traffic at other BCPs and plays an important strategic role in supporting Hong Kong's long-term economic growth.