Major Social and Economic Indicators (2018)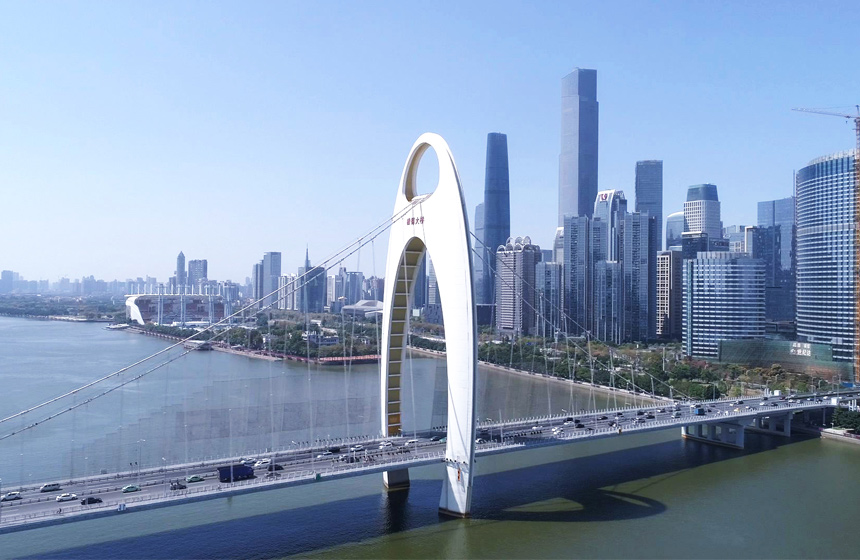 Area
7 434km2
Population
14 904 000
Gross domestic product (GDP)
RMB2,285.9 billion
GDP per capita
RMB155,000
Value of total merchandise trade
RMB981.02 billion
Value of export
RMB560.76 billion
Value of import
RMB420.26 billion
Industrial structure (% of GDP)
Primary industry (agriculture, forestry, animal husbandry, fishery): 1% of GDP
Secondary Industry (industrial and construction): 27.3% of GDP
Tertiary industry (service industry): 71.7% of GDP
Port Cargo Throughput
610 million tons
Passenger Throughput
Overnight visitors received: 65.326 million passenger trips
Guangzhou Baiyuan International Airport: 69.74 million passenger trips
Note: the above figures are based on the Statistical Communiqué of Guangzhou on the 2018 National Economic and Social Development
Guangzhou is the capital of Guangdong Province, located at south-central part of Guangdong Province.
Guangzhou focuses on advanced manufacturing industries with three pillar industries, namely automobiles, electronics and petrochemical industry as the engine of Guangzhou's development. They are supported by six cutting-edge production bases for automobiles, ship and marine engineering equipment, nuclear power equipment, computer numerical control equipment, petrochemicals and fine steel manufacturing. There are also more than 50 industrial areas and parks, focusing on automobiles, petrochemicals and electronics in the east, port-related equipment manufacturing in the south, and airport-based economy in the north.
Guangzhou is a Pearl River port. It also has a good harbour for ocean freight. Besides, it is a railway junction and hub of civil aviation in southern China.
Guangzhou South Railway Station is a comprehensive transport hub serving Southern Guangdong. The station is designed to cater for about 100 million passenger trips. There are five high-speed railways (Wuhan–Guangzhou High-speed Railway, Guangzhou–Shenzhen–Hong Kong Express Rail Link, Guiyang–Guangzhou High-speed Railway, Nanning–Guangzhou High-speed Railway and Guangzhou–Zhuhai Intercity Railway) and two metro lines. Guangzhou–Foshan Circular and Foshan–Dongguan Intercity Railways are under construction.
Major Development Areas
National level: Guangzhou Economic and Technological Development Zone, Nansha Economic and Technological Development Zone, Zengcheng Economic and Technological Development Zone, Guangzhou Hi-tech Industrial Development Zone, Guangzhou Baiyun Airport Comprehensive Bonded Zone, Guangzhou Free Trade Zone, Guangzhou Export Processing Zone, Guangzhou Bonded Logistics Park, and Guangzhou Nansha Bonded Port Area
Provincial level: Baiyun Industrial Park, Yunpu Industrial Park, Huadu Economic Development Zone, and Conghua Economic Development Zone
China (Guangdong) Pilot Free Trade Zone—Nansha Area of Guangzhou was formally approved by the State Council in December 2014. The planned area is about 803 square kilometres. Nansha focuses on promoting Guangdong-Hong Kong in-depth cooperation and establishing technology and innovation transfer platform between the two places, supported by policies and measures for Hong Kong people and enterprises, for example, preferential policies to attract Hong Kong professionals to work in Nansha. Preferential policies for Hong Kong people and enterprises include the implementation of cross-border Renminbi (RMB) lending in Nansha; the designation of Nansha as a pilot area for Hong Kong and Guangdong law firms operating in the form of partnership association; and the provision of rewards by Nansha based on the tax differentials between the Mainland, the HKSAR and the Macao SAR for Hong Kong and Macao talents with an annual taxable income of over RMB300, 000.
As of the end of 2017, there are 1 333 Hong Kong-invested enterprises registered in Nansha, with the total amount of investment of US$30.37 billion.
Economic and Trade Relations Between Guangzhou and Hong Kong
In 2018, the total value of import and export between Guangzhou and Hong Kong amounted to RMB84.13 billion, accounting for 8.6% of the city's overall; of which, the total export to Hong Kong was RMB80.87 billion, accounting for 14.4% of the city's overall; and the total import from Hong Kong was RMB$3.26 billion, accounting for 0.8% of the city's overall.
In 2017, the number of new direct investment projects from Hong Kong in Guangzhou was 940; the contracted direct investment from Hong Kong amounted to US$8.68 billion; and the realised direct investment from Hong Kong was US$5.18 billion.
As of the end of 2017, the number of approved Hong Kong-invested enterprises in Guangzhou reached 20 155. The contracted direct investment from Hong Kong reached US$95.48 billion and the realised direct investment from Hong Kong was US$54.57 billion.
Youth Innovation Entrepreneurship Bases
The Action Plan to support the development of Hong Kong and Macao youths in Guangzhou through a host of 15 measures was launched on 1 June 2019. This is the first plan to be implemented in the Greater Bay Area cities in Guangdong since the announcement of the Guangdong Provincial Government's notice on the strengthening of the implementation of the establishment of innovation and entrepreneurial bases for youths from Hong Kong and Macao on 20 May 2019. The strategy aims to speed up the opening of these bases and introduce facilitation measures to meet with their needs in working and living in Guangdong.
The Administrative Committee of the Guangzhou Huangpu District and Guangzhou Development District published the "Implementation Measures of the Guangzhou Haungpu District and Guangzhou Development District to support Hong Kong and Macao youths in innovation and entrepreneurship" on 3 July 2019. Eligible Hong Kong and Macao youths, aged between 18-45, may enjoy talent benefits such as employment, transportation and housing.
There are many youth innovation entrepreneurship bases in Guangzhou, offering young people of Guangdong, Hong Kong and Macao a wide range of support services to foster youth innovation and entrepreneurship.

Established in 2013, the South China Advanced Materials Innovation Park is a national technology business incubator, national co-working space, provincial demonstration base for innovation and entrepreneurship of small and micro enterprises, and provincial pilot unit for the establishment of incubation system. Key industries include new materials, biomedicine, electronic information, energy conservation and environmental protection, and high-tech service industry. Currently, there are 478 enterprises, 20 experts from the Thousand Talents Plan and 87 high and new technology enterprises working inside the park.
Established in 2016, the "Chuang Hui Gu" (hub of creativity, innovation and entrepreneurship - cultural and creative community for young people in Guangdong, Hong Kong and Macao) is a cluster for high and new technology, internet, culture and creative industry, and E-commerce. It is especially designed for young talents who specialises in cultural and creative industry sector in Guangdong, Hong Kong and Macao. There are entrepreneurial incubator base, entrepreneurship academy, creative workshop, apartments, canteen, etc. for young talents. It provides free services on business incubation, company registration, legal advice, marketing and recruitment.
Established in 2017, the entrepreneurship base for Hong Kong and Macao youths in Tianhe District is a one-stop platform which provides young people in Guangzhou, Hong Kong and Macao with support services in entrepreneurship, internship, exchanges, living, etc.
A public legal service centre was established in Tianhe District in May 2019 to provide Hong Kong and Macao youths with legal services and advice, etc.
For Guangzhou's key measures on taking forward the development of the Guangdong-Hong Kong-Macao Greater Bay Area, please refer to the webpage of Work Report of Guangzhou Municipal Government (in Chinese only).