Major Social and Economic Indicators (2018)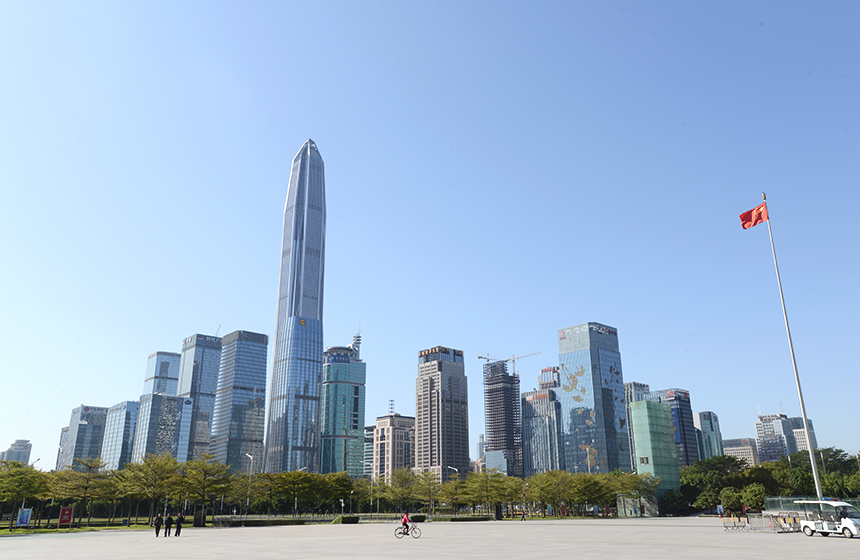 Area
1 997km2
Population
13 027 000
Gross domestic product (GDP)
RMB2,422.2 billion
GDP per capita
RMB190,000
Value of total merchandise trade
RMB2,998.37 billion
Value of export
RMB1,627.47 billion
Value of import
RMB1,370.9 billion
Industrial structure (% of GDP)
Primary industry (agriculture, forestry, animal husbandry, fishery): 0.1% of GDP
Secondary Industry (industrial and construction): 41.1% of GDP
Tertiary industry (service industry): 58.8% of GDP
Port Cargo Throughput
250 million tons
Passenger Throughput
Overnight visitors received from outside of the Mainland: 12.2 million passenger trips
Shenzhen Bao'an International Airport: 49.35 million passenger trips
Note: the above figures are based on the Statistical Communiqué of Shenzhen on the 2018 National Economic and Social Development
Shenzhen, also known as "Pengcheng" (the City of Giant Eagle), is a coastal city in South China, adjoining Hong Kong. It is an "early and pilot implementation" area under the country's reform, opening-up and modernisation.
The Shenzhen Special Economic Zone was established in August 1980. In March 1981, Shenzhen was promoted to a sub-provincial city. In July 1992, Shenzhen was granted with legislative power for its special economic zone.
Shenzhen has developed a convenient and efficient integrated transport system. Beijing-Kowloon Through Train, Guangzhou-Shenzhen-Hong Kong Express Rail Link and Xiamen–Shenzhen railway form a national railway node at Shenzhen. Shenzhen Metro consists of eight lines, of which the Longhua Line connects with Hong Kong's mass transit railway network. Shenzhen has a well-developed highway network connecting Shenzhen to other cities of the Pearl River Delta. As at end 2018, 46 passenger airlines operating at the Shenzhen Bao'an International Airport reached 168 cities in the world, including 45 international destinations such as London and Paris.
Shenzhen has boundary checkpoints covering land, sea and air travel. It is the city with the largest number of checkpoints, largest inbound/ outbound passenger flow and vehicular flow in the Mainland. Among all, Lo Wu Checkpoint is one of the busiest Chinese land passenger checkpoints, Huanggang Checkpoint offers 24-hour clearance, Futian/ Lok Ma Chau Checkpoints connects directly to Shenzhen metro and Hong Kong mass transit railway respectively, Shenzhen Bay Checkpoint adopts "colocation" arrangement.
The four pillar industries of Shenzhen are advanced technology, modern logistics, financial services and cultural industry. Shenzhen focuses on the development of seven emerging industries of strategic importance, namely biotechnology, Internet, new energy, new materials, cultural and creative industries, new generation information technology, as well as energy conservation and environmental protection, plus future industries on life and health, marine, aerospace and aviation, robots, wearable devices, and smart equipment.
Major Development Areas
National level: Qianhai Shenzhen-Hong Kong Modern Service Industry Cooperation Zone, Shenzhen High-Tech Industrial Development Zone, Shenzhen Bonded Zone, Yantian Port Bonded Logistics Park, Shenzhen Export Processing Zone, and Shenzhen Qianhaiwan Free Trade Port Area
The establishment of the China (Guangdong) Free Trade Pilot Zone was officially approved by the State Council on 31 December 2014, which comprises three areas totaling 116.2 square kilometres. Qianhai & Shekou Area of Shenzhen was officially launched on 27 April 2015. The planned area is 28.2 square kilometres, divided into Qianhai Block (15 square kilometres, i.e. Qianhai Shenzhen-Hong Kong Modern Service Industry Cooperation Zone) and Shekou Block (13.2 square kilometres). The Overall Development Plan on Hong Kong/ Shenzhen Cooperation on Modern Service Industries in Qianhai Area was endorsed by the State Council in August 2010. It positioned the 15-square-kilometre Qianhai Shenzhen-Hong Kong Modern Service Industry Cooperation Zone as a demonstration area of innovation and cooperation of Guangdong-Hong Kong modern service industry, focusing on the development of finance, modern logistics, information services, technology services and other professional services.
There are a number of preferential policies for Hong Kong people and enterprises in Qianhai, including:

implementation of cross-border Renminbi (RMB) lending;
imposition of 15% enterprise income tax for eligible Hong Kong enterprises;
rebate of personal income tax paid in excess of 15% of taxable income from the Shenzhen municipal government to eligible Hong Kong talents in Qianhai;
dedicated funding programme on innovation and entrepreneurship for eligible Hong Kong enterprises, and funding programme for Hong Kong-invested headquarters in Qianhai;
housing quota for eligible Hong Kong enterprises and talents;
designation of Qianhai as a pilot area for Hong Kong and Guangdong law firms operating in the form of partnership association;
pilot housing construction projects in which Hong Kong's construction and related engineering enterprises and professionals are allowed to provide services in Qianhai; and
an exemption from the employment permit requirement for Taiwan, Hong Kong and Macao residents in Qianhai.

As at the first half of 2019, 18 land parcels were sold to Hong Kong enterprises, with an area of 372,600 square meters, accounting for 45.9 percent of the land sold in Qianhai for commercial uses. A total of 11,555 Hong Kong-funded enterprises with a registered capital of RMB1,234.36 billion had registered in Qianhai.
Economic and Trade Relations Between Shenzhen and Hong Kong
In 2018, the total value of import and export between Shenzhen and Hong Kong amounted to RMB680.78 billion; of which, the total export to Hong Kong was RMB675.83 billion and the total import from Hong Kong was RMB4.95 billion.
Youth Innovation Entrepreneurship Bases
Measures to support the development of Hong Kong and Macao youths in Qianhai by the Administrative Bureau of the Qianhai Shenzhen-Hong Kong Modern Service Industry Cooperation Zone took effect on 1 March 2019 and are valid for 3 years. These include supporting Hong Kong and Macao youths to visit, take up internships and employment, start innovative businesses, optimising their development platform and strengthening their living benefits.
There are many youth innovation entrepreneurship bases in Shenzhen, offering young people of Guangdong, Hong Kong and Macao a wide range of support services to foster youth innovation and entrepreneurship.

Established in 1999, the Shenzhen Virtual University Park (SZVUP) is an innovative demonstration base for collaboration among industry, education and research located inside the Shenzhen High-tech Industrial Park. SZVUP aims at providing a base for innovation and entrepreneurship platforms to work on innovation and entrepreneurship, scientific research, talent development, technological innovation, product commercialisation and Shenzhen/ Hong Kong cooperation, etc. The SZVUP has gradually become a vibrant community for high-calibre talents as well as research institutes and technology SMEs.
Established in 2000, the Shenzhen Overseas Chinese High-Tech Venture Park is located inside the Shenzhen High-tech Industrial Park. It is an important platform for attracting and helping overseas Chinese students to start a business in the country as well as supporting their businesses. It is run by returned overseas Chinese students with government policy support. It provides basic facilities and services including counselling, financing, talent recruitment, exchange and training, marketing, management consultation, professional talks and networking, etc.
Established in 2013, the Shenzhen-Hong Kong Youth Innovation Entrepreneurship Base is located in the Nanshan Park of Nanshan District, serving as a major innovation and start-up platform for young people of Shenzhen, Hong Kong and Macao. It is run by Hong Kong operator with government policy support, providing office space at discounted rent, necessary facilities and professional consultation services for young people of Hong Kong and Macao who aspire to start business in Shenzhen.
Established in 2014, the Qianhai Shenzhen-Hong Kong Youth Innovation and Entrepreneur Hub (E Hub) is located in Qianhai area. It provides supporting services to young people of Shenzhen, Hong Kong and other places in starting up business. E Hub focuses on modern logistics, information services, technology services, cultural and creative industries, and professional services. It provides one-stop business services to young people and start-ups such as office space at concessionary rates, tax concession, financial support, seed money, mobile communications, accommodation facilities, etc.
Established in 2016, MH Maker is located in Guanlan, Longhua District of Shenzhen. It is an important cultural and creative platform in Shenzhen, Hong Kong and Macao which focuses on five main areas, namely, craft making, original design, exhibition, technology, and culture and entertainment.
Established in 2019, Zetta Bridge Qianhai Hong Kong-Shenzhen Design Innovation Hub is located at Mawan, Qianhai. It is an exchange platform for the creative industries including design and architecture to boost further co-operation between Shenzhen and Hong Kong.
The innovation and entrepreneurship base for Hong Kong and Macao youths in Lohu and Gangxia, Futian are two other examples of such platforms in Shenzhen.
For Shenzhen's key measures on taking forward the development of the Guangdong-Hong Kong-Macao Greater Bay Area, please refer to the webpage of Work Report of Shenzhen Municipal Government (in Chinese only).