Major Social and Economic Indicators (2020)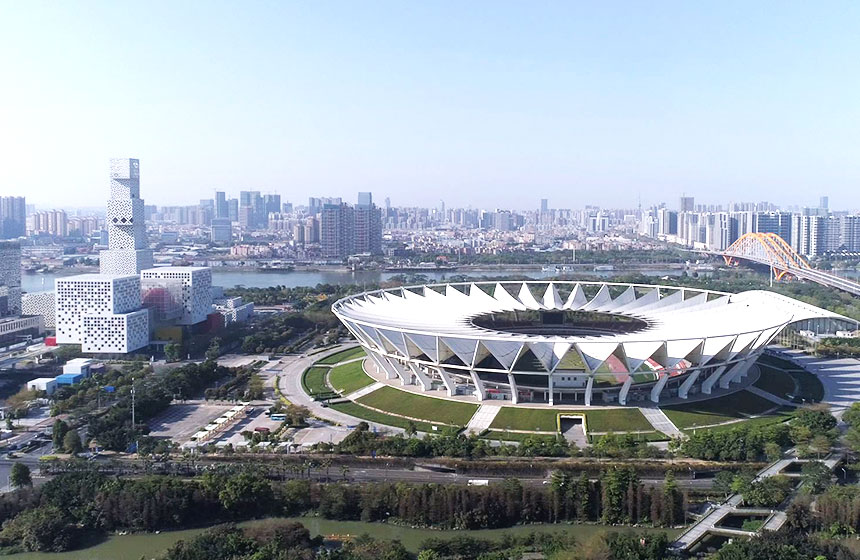 Area
3 798km2
Population
9 498 900
Gross domestic product (GDP)
RMB1,081.6 billion
GDP per capita
RMB114,000
Value of total merchandise trade
RMB506.03 billion
Value of export
RMB413.12 billion
Value of import
RMB92.91 billion
Industrial structure (% of GDP)
Primary industry (agriculture, forestry, animal husbandry, fishery): 1.5% of GDP
Secondary Industry (industrial and construction): 56.4% of GDP
Tertiary industry (service industry): 42.1% of GDP
Port Cargo Throughput
92.8468 million tons
Passenger Throughput
Visitors received: 35.7356 million passenger trips
Foshan Shadi Airport: 483 700 passenger trips
Note: the above figures are based on the Statistical Communiqué of Foshan on the 2020 National Economic and Social Development
Foshan is located at the hinterland of the Pearl River Delta in the south-central part of Guangdong Province, adjoining Guangzhou on the east. The travelling time between Foshan and Hong Kong or Macao is about two hours.
Foshan has good transport network, with modern air, rail, highways, river and public transportation. There are flights connecting Foshan Airport to cities such as Beijing, Shanghai and Shijiazhuang and there are four lounges in Foshan seamlessly connected with Guangzhou Baiyun International Airport. A new airport at Gaoming District of Foshan, as one of the backbone airports of Guangdong Province, is being planned. Its design annual passenger throughput is 50 million passenger trips. The construction of this new airport is expected to commence in 2019. Separately, the first section of the Guangzhou-Foshan Line is the first intercity railway of the country. The Guangzhou-Zhuhai intercity railway closely connects Foshan with Guangzhou, Zhongshan, Zhuhai, Hong Kong and Macao.
Foshan's economy is manufacturing-based, including industries in which Foshan enjoys strengths such as machinery equipment, household appliances, ceramic building materials, metal processing and metal products, textiles and garments, electronic information, food and beverages, fine chemicals and pharmaceuticals, household goods, etc., as well as emerging industries including optoelectronics, environmental protection, new materials, new medicines, and new energy vehicles.
Foshan has been known as "land of fish and rice" and is well-known for its fish pond systems with mulberry, banana, and sugarcane on the dyke. Development of modern agriculture, focusing on horticulture, aquaculture, and animal husbandry, has accelerated. Foshan has the largest plantation base of phalaenopsis in the country and the largest plantation base of high-quality lilies in the province. It is also known as "home of eels in China", "home of freshwater fish fry in China" and "home of flowers and trees in China". Foshan has been one of the cities in the first batch of national demonstration base for agricultural industrialisation.
Major Development Areas
National level: Foshan National High-Tech Industrial Development Zone
Provincial level: Foshan Nanhai Economic Development Zone, Foshan Chancheng Economic Development Zone, Foshan Nanhai Industrial Zone, Foshan Gaoming Cangjiang Industrial Zone, Foshan Sanshui Industrial Zone, and Foshan Shunde Industrial Zone
Economic and Trade Relations Between Foshan and Hong Kong
In 2018, the total export to Hong Kong was RMB42.88 billion, accounting for 11.5% of the city's overall.
In 2019, the number of new direct investment projects from Hong Kong in Foshan was 228; the contracted direct investment from Hong Kong amounted to US$964 million; the realised direct investment from Hong Kong was US$544 million.
As of the end of 2019, the number of approved Hong Kong-invested enterprises in Foshan reached 8 009 (accounting for 66.26% of the city's overall). The contracted direct investment from Hong Kong reached US$30.03 billion (accounting for 67.81% of the city's overall) and the realised direct investment from Hong Kong was US$21.5 billion (accounting for 66.83% of the city's overall).
Youth Innovation Entrepreneurship Bases
The Office of the People's Government of Foshan issued the "Implementation Measures for Setting Up Innovation Incubation Bases for Hong Kong and Macao Youths in Foshan" on 6 June 2019. Specific measures include Hong Kong and Macao youths with start-up businesses in Foshan may enjoy the same treatment for start-up training, employment and rental subsidies as local residents. Eligible Hong Kong and Macao youths may receive housing subsidy and be included in the scope for security of tenure in Foshan.
Sanshan New City of Foshan has attracted the establishment of a pool of incubator platforms for youth innovation and entrepreneurship, including the Sanshan Guangdong-Hong Kong-Macao Youth Entrepreneur Community. There are also two mega innovation and technology platforms, namely Maple Tree International Technology Park and the CTIC – San Shan Technology Incubation Park which have attracted leading private enterprises in the I&T industry to set up headquarters and bases. I&T industry there has formed substantial agglomeration effect. Currently, the Guangdong-Hong Kong- Macao Technology Exhibition and Exchange Center, and the Sanshan Guangdong-Hong Kong-Macao Youth Entrepreneur Community have commenced operation. There are about ten enterprises and teams admitted. It is expected that in the coming three years, 50-100 teams will join.
For Foshan's key measures on taking forward the development of the Guangdong-Hong Kong-Macao Greater Bay Area, please refer to the webpage of Work Report of Foshan Municipal Government (in Chinese only).