Major Social and Economic Indicators (2020)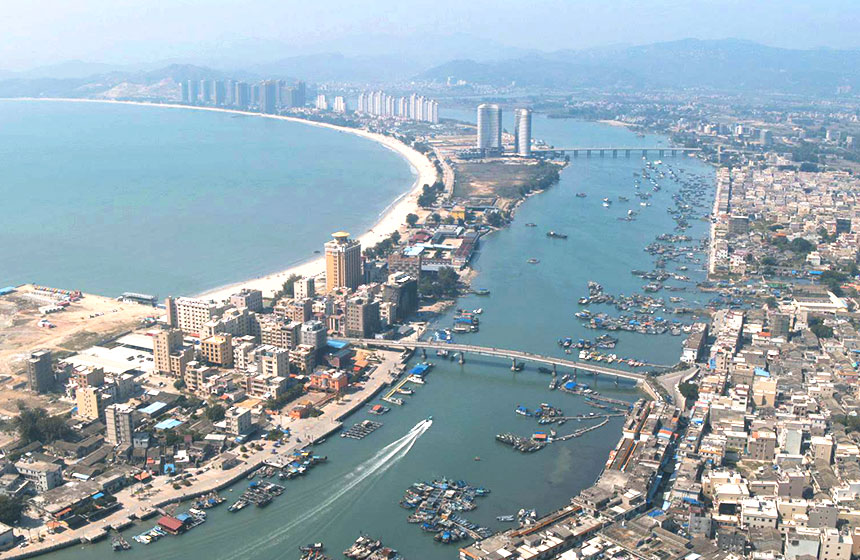 Area
11 347km2
Population
6 042 900
Gross domestic product (GDP)
RMB422.2 billion
GDP per capita
RMB70,000
Value of total merchandise trade
RMB248.913 billion
Value of export
RMB168.808 billion
Value of import
RMB80.104 billion
Industrial structure (% of GDP)
Primary industry (agriculture, forestry, animal husbandry, fishery): 5.2% of GDP
Secondary Industry (industrial and construction): 50.5% of GDP
Tertiary industry (service industry): 44.3% of GDP
Port Cargo Throughput
96.364 million tons
Passenger Throughput
Visitors received: 22.2069 million passenger trips
Huizhou Pingtan Airport: 1.9847 million passenger trips
Note: the above figures are based on the Statistical Communiqué of Huizhou on the 2020 National Economic and Social Development
Huizhou is located at the southeastern part of Guangdong Province, widely known as the "gateway of Eastern Guangdong". Huizhou has the second largest area among the Mainland cities in the Greater Bay Area. It has rich land resources and good living environment. It also has ample tourism resources.
Huizhou is a land of abundance. There are more than 30 kinds of mineral resources underground, such as iron, coal, tungsten and titanium. Huizhou is also noted for agricultural products including rice, sugarcane, peanuts, lychees, etc. There are up to 840 types of aquatic products. High-quality salt is produced along the coastal areas. Local specialties, including "mei cai" (dried pickled vegetables), glutinous rice wine, tangerines, chickens, herbal oils, calamari, abalones, "South China Sea pearl" and bamboo shoots are popular.
Huizhou has beautiful natural environment. The forest cover rate has reached 62.4%. Huizhou has always been ranked the top ten in terms of air quality among major cities in the country. Its green development index has ranked the first in the Guangdong Province.
On transportation infrastructure, Huizhou will accelerate the development of "two ports, three networks". With seaports, airport, high-speed railways and expressways, a modern comprehensive transport network has gradually taken shape. Since 2013, Xiamen–Shenzhen railway has been in full operation. There are two stations in Huizhou, namely Huizhou South and Huidong Railway Stations.
Electronic information and petrochemicals are pillar industries of Huizhou. Together with automotive and equipment manufacturing as well as clean energy industries, they form the modern industrial system of Huizhou. The Daya Bay Petrochemical Zone has reached oil refining capacity of 22 million tons/year and ethylene production capacity of 2.2 million tons/year, ranking the first in the country in terms of the scale of petrochemical-refining integration. For five consecutive years, it ranked the top 20 among chemical industrial parks of the country. The Huizhou Zhongkai Hi-tech Industrial Development Zone is the country's first national electronic information industrial base, with relatively complete supply chains of mobile communications, panel display, automotive electronics, LED and new energy. Huizhou is the country's production base for women's shoes and is famous for menswear. It is also an important production base for clean energy.
Major Development Areas
National level: Daya Bay Economic and Technological Development Zone, and Huizhou Zhongkai High-Tech Industrial Development Zone
Provincial level: Daya Bay Petrochemical Industrial Park, Huizhou Industrial Park, Huiyang Economic Development Zone, Bolou Industry Transfer Industrial Park, Huidong Industry Transfer Industrial Park, and Huizhou Industry Transfer Industrial Park
Major platforms: Pan Daya Bay New District, Tonghu Ecological and Smart Zone, and China - South Korea (Huizhou) Industrial Park
Economic and Trade Relations Between Huizhou and Hong Kong
In 2020, the total export from Huizhou to Hong Kong was RMB46.178 billion, accounting for 27.4% of the city's overall.
In 2020, the number of realized direct investment projects from Hong Kong in Huizhou was 255, amounted to RMB2.238 billion.
As at end 2019, the number of Hong Kong enterprises registered in Huizhou was 5 457, accounting for 60.7% of the city's overall.
Youth Innovation Entrepreneurship Bases
There are many youth innovation entrepreneurship bases in Huizhou, offering young people of Guangdong, Hong Kong and Macao a wide range of support services to foster youth innovation and entrepreneurship.

Youth entrepreneurship base for Hong Kong and Macao youths in the Zhongkai high-tech industrial development zone commenced operation in 2016. Located in the core of the Huizhou Zhongkai High-Tech Industrial Development Zone, the base can make good use of the location advantage of the industrial development zone as well as entrepreneurial resources from Hong Kong and Macao. It is the first national technology business incubator in Pearl River Delta region especially developed for youths of Hong Kong and Macao.
The Office of the People's Government of Huizhou issued the "Implementation Measures for Setting up Start-Up Incubation Bases for Hong Kong and Macao Youths in Zhongkai, Huizhou" on 19 June 2019. Specific measures include Hong Kong and Macao youths with start-up businesses in Huizhou may enjoy the same treatment for start-up training, employment and rental subsidies as local residents. Eligible Hong Kong and Macao youths may also receive housing subsidy and loan support.
A demonstration base on innovation and entrepreneurship in Daya Bay has commenced planning and construction in 2017, aiming at developing a national level coworking space and incubator. The base has established cooperation with well-known education institutions such as Sun Yat-sen University, Guangdong University of Technology, Shantou University, Huizhou University, and Huizhou Economics and Polytechnic College. It has attracted start-up teams from education institutions to settle in Daya Bay and fostered commercialisation of research results. It focuses on emerging industries including Internet of Things (IoT), new energy, energy conservation, cultural and creative industries, information technology, and applications of artificial intelligence.
For Huizhou's key measures on taking forward the development of the Guangdong-Hong Kong-Macao Greater Bay Area, please refer to the webpage of Work Report of Huizhou Municipal Government (in Chinese only).