Major Social and Economic Indicators (2020)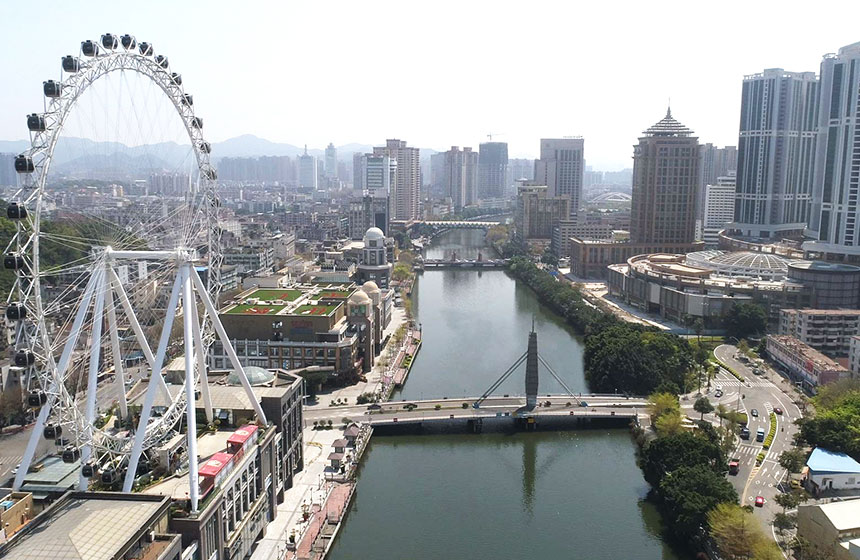 Area
1 784km2
Population
4 418 100
Gross domestic product (GDP)
RMB315.2 billion
GDP per capita
RMB71,000
Value of total merchandise trade
RMB220.916 billion
Value of export
RMB181.524 billion
Value of import
RMB39.392 billion
Industrial structure (% of GDP)
Primary industry (agriculture, forestry, animal husbandry, fishery): 2.3% of GDP
Secondary Industry (industrial and construction): 49.4% of GDP
Tertiary industry (service industry): 48.3% of GDP
Port Cargo Throughput
13.1155 million tons
Passenger Throughput
Overnight visitors received: 8.1769 million passenger trips
Note: the above figures are based on the Statistical Communiqué of Zhongshan on the 2020 National Economic and Social Development
Zhongshan is located at the south-central part of the Pearl River Delta, connecting Guangzhou on the north and is close to Hong Kong and Macao. It is a key transportation node on the west bank of the Pearl River.
Zhongshan is a base for advanced manufacturing and modern service industries. It is also a pilot city for industrial upgrading in Guangdong Province. Key industries of the industrial cluster in Zhongshan are equipment manufacturing, household appliances, textiles and garment, electronics, lighting, healthcare and pharmaceuticals, furniture, small home appliances and hardware products, as well as emerging industries such as modern service industry and yacht industry. The port-area equipment manufacturing base hosts many large-scale state-owned enterprises, such as China Shipbuilding Industry Corporation, China Railway Group Limited, China National Offshore Oil Corporation, and Sinoconst Steel Structure Co. Ltd.. The only bonded logistics centre on the west bank of the Pearl River Estuary is located in Zhongshan.
Major Development Areas
National level: Zhongshan Torch High-Tech Industrial Development Zone
Provincial level: Zhongshan Industrial Park
Economic and Trade Relations Between Zhongshan and Hong Kong
In 2018, the total import and export between Zhongshan and Hong Kong amounted to RMB24.71 billion, accounting for 10.6% of the city's overall; of which, the total export to Hong Kong was RMB24.34 billion, accounting for 13.5% of the city's overall; and the total import from Hong Kong was RMB370 million, accounting for 0.7% of the city's overall.
In 2019, there were 162 new direct investment projects from Hong Kong in Zhongshan; the contracted direct investment from Hong Kong amounted to US$620 million; and the realised direct investment from Hong Kong was US$400 million.
As of the end of 2019, the number of approved Hong Kong-invested enterprises in Zhongshan reached approximately 4 433 (accounting for 58.6% of the city's overall). The contracted direct investment from Hong Kong reached US$14.18 billion (accounting for 59.1% of the city's overall) and the realised direct investment from Hong Kong was US$9.16 billion (accounting for 57.9% of the city's overall).
Youth Innovation Entrepreneurship Bases
The Zhongshan Municipal Government issued the Working Plan to Strengthen Business Start-up and Innovative Demonstrative Bases for Hong Kong and Macao Youths in June 2019. Hong Kong and Macao youths with business start-ups in Zhongshan may enjoy equal start-up training, employment, and rental subsidy benefits. Eligible Hong Kong and Macao youths may also receive housing subsidy and be included in the scope for security of tenure in Zhongshan.
There are a number of youth innovation entrepreneurship bases in Zhongshan, offering young people of Guangdong, Hong Kong and Macao a wide range of support services to foster youth innovation and entrepreneurship.

Established in 2016, the Zhongshan E-Park Entrepreneurship Incubation Base is located inside the Mercure Zhongshan Industrial Park. Its key business areas are e-commerce, cultural and creative industries, modern services, and research and development. The base aims at fostering entrepreneurship, which will, in turn facilitate development of the city and create employment opportunities. It is equipped with entreneurship academy, web conference centre, multipurpose roadshow room, café, showroom, mentor association, etc. It provides resources and services including policy support, training, venture capital, etc., to young entrepreneurs in Zhongshan.
Established in 2017, the Guangdong-Hong Kong-Macao-Taiwan youth innovation entrepreneurship base serves as an innovation and entrepreneurship platform for young people of the four places. It provides them with one-stop support services. Its major scope of business is bio-medical equipment.
The Zhongshan 760 Cultural Park Macao Interactive Zone was established in 2017. It mainly focuses on youth entrepreneurship, technology innovation, and cultural and creative industries. Cultural industry and young people of Macao can enjoy various preferential treatments if they organise cultural activities in the interactive zone. In return, cultural industry and young people of Zhongshan can also enjoy preferential treatments if they start a business or organise cultural activities in Macao through the interactive zone.
For Zhongshan's key measures on taking forward the development of the Guangdong-Hong Kong-Macao Greater Bay Area, please refer to the webpage of Work Report of Zhongshan Municipal Government (in Chinese only).